Innovations for Fintech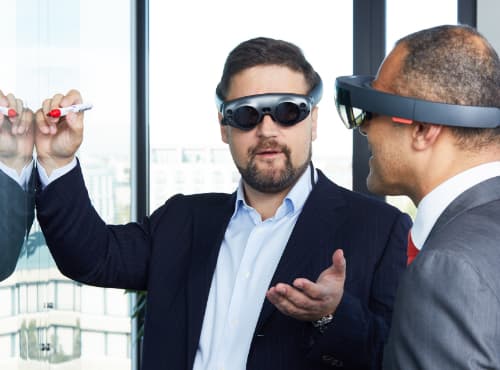 AR/VR
Devexperts provides financial data analytics in a new dimension of Augmented and Virtual Reality. Our VR platform is powered by our low-latency data technology, our cloud analytics platform and our own market data infrastructure with direct connectivity to market centers all over the world.
We work to accelerate the widespread adoption of VR/AR technology by traditional financial companies (banks, brokers, exchanges), technological FinTech firms and startups around the world in order to improve customers' experience, deliver analytical power, innovative visualizations, gamification and new dimensions of interactivity to user interfaces, and introduce innovative ideas of Mixed Reality collaboration.
Devexperts is a proud VRARA FinTech Committee co-chairing member.

Blockchain Smart contracts
We develop and deploy smart contracts onto the Ethereum blockchain. Smart contracts allow for cryptographically secure data sharing. We can articulate any user's conditions and any programmable logic, and there is no need for a third party to guarantee their fulfillment – Ethereum smart contracts are immutable and tamper-proof. Smart contracts also make it possible to create tradeable digital tokens with any desired ruleset, thus enabling a limitless set of opportunities for a business. Devexperts can also develop smart contracts that program a creation of virtual autonomous organizations with members voting on matters and a true democracy due to the decentralized nature of Ethereum.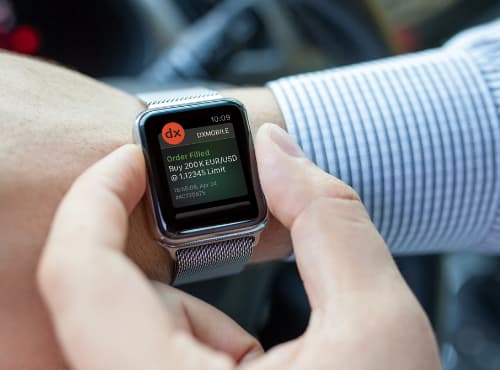 IoT/Wearables
Devexperts utilizes its knowledge of big data and AI in software development of IoT devices. We provide both frontend and backend for them, helping to enrich all kind of facilities with technology and make lives easier. We take pride in our development of software for smart home controllers that ensure smooth trading experience.
We also develop software for wearables such as smart watches. This software is a great compliment to full-fledged applications, ensuring that a user is always up-to-date with their notifications and can trade on the go.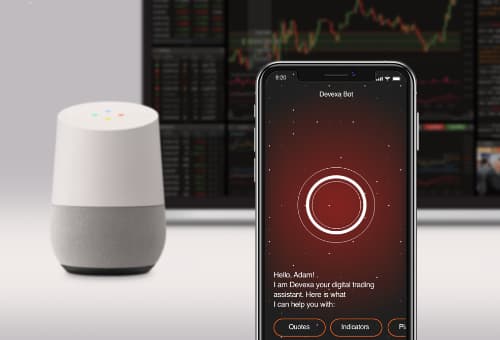 Chatbot/Voice Assistant
We developed an an AI-powered chatbot Devexa with Google assistant voice control capabilities, available on Facebook Messenger, Viber, Telegram and WeChat, which helps brokerages serve existing traders and onboard new ones. Devexa has enhanced NLP capabilities and is able to understand requests that deviate from the script as well as compensate for typos and ambiguous text. Devexa's interface can be white-labeled and tailored to a broker's preferences.