Download the e-book:
Fractional Trading – Broker's Side Support and Risk Exposure Limitation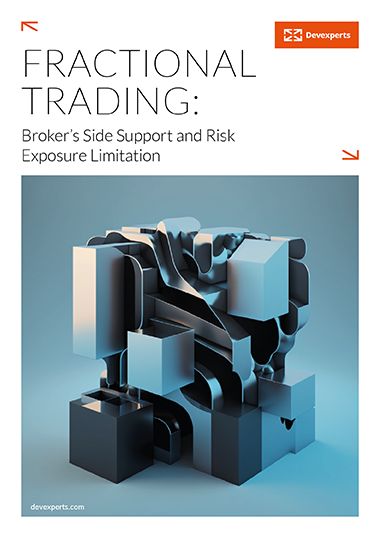 Fill in the form below to download
With the introduction of fractional trading coupled with the race to zero commissions, the competition for clients has become immense. Brokerages that don't offer fractional stock trading might be disadvantaged due to their lack of adaptability. In this white paper, we'll break down technology requirements for fractional trading and explain how it provides brokers with a dramatic competitive differentiator.
You will learn:
1
What is fractional trading and how does it work?
2
How can stock brokers benefit from it?
3
How brokers can limit their risk exposure?
What is fractional trading and how does it work?
At its core, fractional shares trading is the concept of getting a smaller piece of a security or round lot and being able to trade it as a client. This allows investors to diversify their holdings if they have a smaller portfolio. It is also much more affordable than buying a whole stock, accessible to investors with limited access to standard investment opportunities, and feasible for more capital to flow into the market.
How can stock brokers benefit?
Fractional shares trading gives brokers a definite competitive edge. It gives their traders the chance to invest in stocks they may not have been able to previously, as well as having increased control over their decisions due to more available options. For brokers, implementing this workflow results in an expanded and more varied customer base, which leads to more assets under management.
Many brokerage firms have already recognized the introduction of fractional shares trading as a key selling point and the competition for clients combined with the race to zero commissions has become formidable. Stock brokers that don't provide this service may be disadvantaged due to their inability to keep up with the market.
How can brokers limit their risk exposure?
However, brokerages must carefully consider implementation strategies when it comes to managing fractional inventory. As fractional trading might be limited by execution venues, there's a need for an internal inventory management tool. Implementing such a tool for managing orders and inventory might be quite complex from a technological and regulatory perspective.
Download this white paper
Download this white paper to find out how brokers can support fractional orders, how to manage fractional trading within an OMS, how an OMS routes fractional orders, and ways to limit brokerage's risk exposure.
About the author
Michael Sprachman is the VP of Brokerage Trading Platforms at Devexperts. Michael has over 15 years experience in the capital markets industry, on both buy-side and sell-side trading platforms, focused on U.S. market. He has extensive knowledge of the trade through settlement lifecycle, including STP and high touch workflows, compliance reporting, and financial protocol languages. Previously, Michael has held Product, Delivery, and Project manager roles at Fidessa and OpenText.
Michael Sprachman