About the Client
The client is a large financial services group founded in 1995. They specialize in banking and brokerage services, offering to trade stocks, bonds, options, futures, and Forex for over 400 000 retail investors in Eastern Europe. They are a registered member of the New York Stock Exchange (NYSE) as a Trading Floor broker, the Moscow Stock Exchange (MOEX), the London Stock Exchange (LSE) and Eurex.
"Online communication with clients in messenger dialog boxes has become firmly established in our lives. We are confident that chatbots can compete with classic web solutions. It was comfortable to work with the Devexperts team. We saw the expertise in designing user scenarios and interest in creating new level interfaces."

Client's Quote
Challenge
Engagement, retention, and attraction of new clients is an ongoing challenge for stock and OTC brokers. Due to the fierce competition for X, Y, Z generation traders, and stringent regulatory requirements, brokers are constantly seeking new solutions that help to acquire new clients and increase the LTV.
This time the broker was looking for a vendor who would help him verify two hypotheses:
Free trading signals ("investment ideas") delivered via Telegram would generate inbound leads for a paid service.
Onboarding through messengers or voice assistants would have a user conversion rate comparable to other channels.
The broker wanted to engage a technology provider who would implement a chatbot inside the Telegram messenger and integrate it with the emerging APIs of the broker. The proof-of-concept would be a feature-rich software with the embedded statistics and controls. The chatbot functionality would be designed to improve lead-generation processes, analyze user behavior, increase trading volumes, and promote their brand new copy trading services.
Solution
The client chose Devexperts for our expertise in software development for brokers, for our experience in designing chatbots, and above all, for our existing Devexa trading assistant.
Case 1: Delivery of Trading Signals
The client has their own marketplace of investment ideas from independent stock market analysts; each idea comes with reasoning, entry/exit conditions, and a time horizon. The marketplace tracks records of a particular analyst and calculates his/her rating.
Devexperts took Devexa, our AI trading butler, and integrated it with this marketplace API for publishing investment ideas & open account API. To test the hypothesis of disseminating trading signals through a messenger, Retail traders received an opportunity to:
view all actual trading ideas and their details, and filter them by providers or tickers
subscribe for a paid service to get premium signals or auto-follow a particular provider
seamlessly switch to a mobile trading app to place a trade
Design of the Chatbot's Workflow
Thorough work has been done around the UI and UX. The workflow of a user's dialogues with the chatbot had been redesigned based on the Devexperts designers' input and data gathered by Devexa during the usability and functional testing.
The broker manages the current list of trading signals on their end. This is a dynamic list, which is regularly being updated. Some signals have already been fulfilled and need to be removed, while others have just arrived and need to be added. Devexperts reconciles this list for the chatbot and designed how the user filters and scrolls signals based on author or instrument; the user learns more about the signal, then refers back to the index. The designers modeled every step for the user, so they will never find themselves in a dead-end.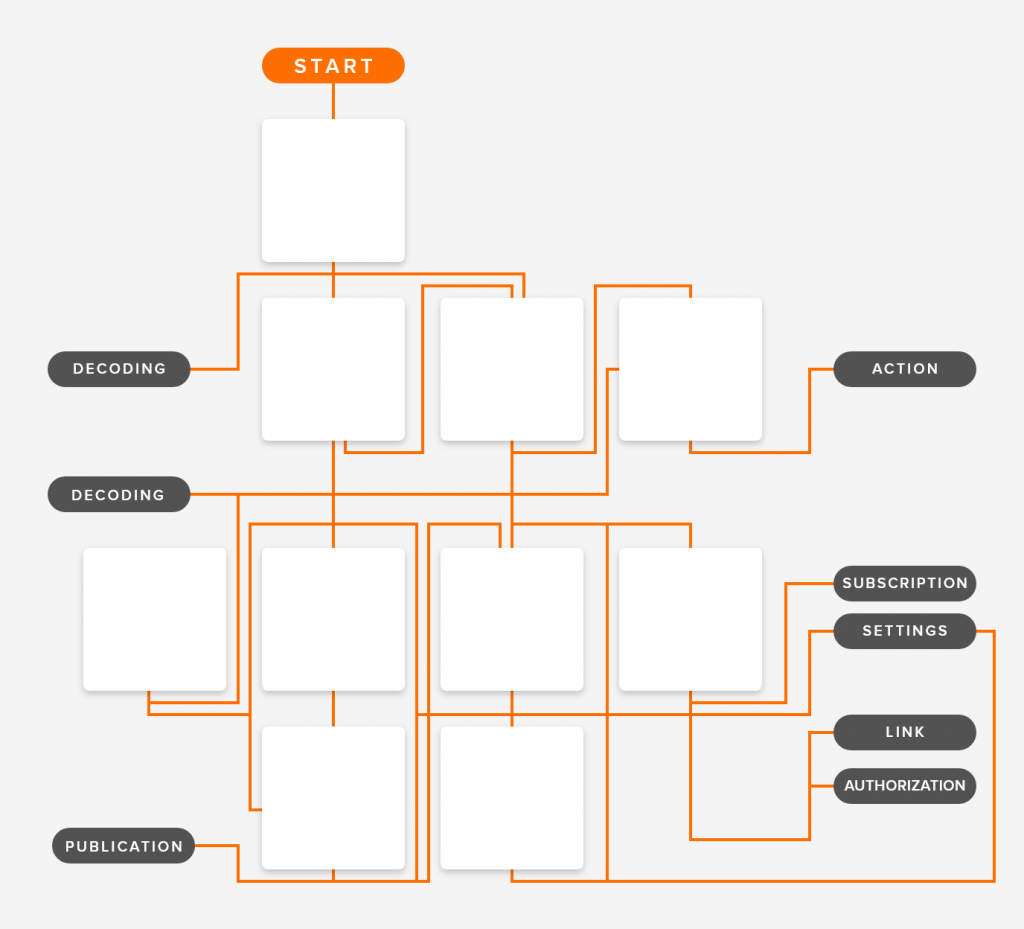 Case 2: Onboarding and KYC
For the 2nd hypothesis, Devexperts engineers needed to verify if it is possible to onboard new traders through messengers with voice assistant capabilities. Smart speakers, without screens, cannot provide the necessary level of security for KYC (know your customer) procedures as of today. Therefore,this scenario was abandoned from the very beginning. After regulators reconsider the security standards, it may be possible to explore this case again. That's why we needed a voice assistant inside a messenger.
The technical challenge was to satisfy regulatory requirements, which demand personal data questions to be asked on a secure web page. Since messengers are not considered a secure environment for submitting personal data, we needed to process the voice requests of a user and forward them to a broker's web page to fill in the necessary fields.
In order to test the hypothesis that users would open new accounts through messengers, the chatbot received the following functionality:
show market data for top stock tickers including current quotes and historical price charts
find answers from their FAQ about the services and the company in general
go through the KYC questionnaire and submit an application for a review
With this pilot project we needed to test the user experience of those who start communicating with a broker through voice assistants. This is a common use case for people with disabilities, and we expect in future there will be some progress with security procedures. For now, even when we created fully compliant onboarding through voice assistants, it is subpar, as the user has to switch to a browser and cannot stay within one messenger application. The hypothesis was checked, but with the current regulatory requirements, it is not worth doing.
Results
The pilot project took two months, was successful, and the system has been published on Telegram and Yandex Alice. By delivering trading signals via messengers the broker is able to attract a younger generation of traders, where they can be converted into paying customers.