DXcharts
Financial charting libraries for market data visualization, technical analysis and trading
Our Advantages
business
Fast in every aspect
Integrate and customize an advanced and lightning-fast financial chart with your product in just a few days.
Your customers stay with you
No external links & logos in DXcharts.
Your features on the roadmap
Get custom features delivered on demand. We're always open.
Technology
Access to source code
Make changes or even create a completely custom interface from scratch. Need something more? We have an alternative full access offer.
Market data out of the box
Get data feeds with futures, equities, FX, cryptocurrencies & indices by default. Just sign up to get it. Integrate DXcharts with a different market data source because it's designed to be data feed-agnostic.
Compatibility with any environment
Native libraries for all platforms. Native web, native mobile & desktop. Get a solution specifically optimized for your product.
Key Functionality
Diverse layout
Juggle the layout of charts as you wish and synchronize them by instrument, chart type, timeframe and range, studies & appearance.
Extensive indicator library
Evaluate securities and forecast their future movement by analyzing statistics gathered from trading activity, such as price movement, volume, implied volatility, etc. The intuitive dxScript allows you to create custom studies.
Various chart types
Pinpointing the best way to visualize market data is difficult. We've put together a list of the most popular types of graphs to help.
Custom aggregations
Set the chart timeframe to any value and customize the defaults.
Instrument comparison
Conveniently compare multiple charts and analyze the market situation with simultaneously displayed charts.
Drawing tools
40 popular drawings for technical analysis allow traders and investors to visualize all known price patterns.
Chart events
Display earnings, dividends, splits, news, or anything else you need for comprehensive analysis.
Orders & positions
Working with orders and positions right from the chart is smooth and intuitive. DXcharts libraries combine best practices from OTC and brokerage platforms.
Compare features
Compare features
Web
Mobile
Desktop
Technical analysis tools
Amount of drawing tools
13
20
19
Amount of indicators/studies
Unlimited
80+
100+
Editor for creating/editing studies
Aggregations, timeframes, intervals, data range
N seconds (custom)
predefined
N minutes (custom)
predefined
N hours (custom)
predefined
N days (custom)
predefined
N weeks (custom)
predefined
N months (custom)
predefined
N years (custom)
predefined
Multiple charts
Multiple charts/grid
up to 4 (configurable)
Market data
Market data connected (dxFeed)
Technology We Use
JS-framework agnostic
DXcharts core is JS-framework agnostic. Use it in React, Angular, Vue, or any other environment you have in the stack
TypeScript
TypeScript-based provides types and a self-explanatory API to customize the look and feel
Extensive documentation
Receive extensive documentation with live code examples for a quick setup
HTML Canvas
The chart utilizes the power of HTML Canvas so it's low-level optimized and supports 60 FPS
React UI
In addition to the core library, get a React library of ready components. Style your app how you like.
CSS
The chart React uses styled components. Override any CSS you like inside at any level.
Proprietary scripting language
Create custom indicators using dxScript. The calculation is done in the backend component included in the package.
i18n
The chart supports i18n. Prepare a dictionary with your translations to change any text.
Native module
Mobile DXcharts comprises a shared core module, an Android native module, and an iOS native module. Native support codebases represent the "view" part of the solution built on top of the shared core, providing native high-level tools for drawing on the UI and handling user interaction.
Android & iOS
The Android core module is written in Java, responsible for performing all the logic, calculations & data handling. For the iOS-side, the source code is translated to Objective-C using open-source J2objC.
Code translation automation
Build scripts to fully automate code translation. Each build results in two platform-specific libraries for iOS and Android respectively, indistinguishable from any other native libraries.
Customization
While integrating the library into the applications, vary the level of customization of the chart layout and features. Start from an off-the-shelf reference implementation and go all the way up to creating custom chart layouts, representation strategies & new drawing tools.
Java-based
Desktop DXcharts is a Java-based desktop application. The platform is independent and can be used on any OS. A multi-module maven application implemented in Java (currently Java 11). The application adopts Java 9 modules. Increase encapsulation and apply another layer of abstraction.
Swing framework
The Charting UI is created using the Swing framework, a popular Java-based UI framework to easily integrate and enhance the project. Most of the functionality is created so clients can easily override or extend the base functionality.
Proprietary scripting language
100+built-in indicators and a built-in engine to create custom indicators using dxScript.
i18n
The chart supports i18n to prepare a dictionary with your translations to change any text.
Lightweight chart widgets
We can also offer simple & clear chart widgets developed by dxFeed. They are perfect
for a web portal or blog
Simple Chart is a graphical representation of the historical price series of a financial instrument. Users can choose between three visualization types (line, candles, or mountain) and change the aggregation and timeframe from 1 minute to 5 years. Simple Chart is a straightforward widget that isn't overloaded with technical analysis options.
The Market Overview widget offers users a glance at the latest market activity across various sectors. It displays a performance overview for different asset classes including currencies, indices, crypto, stocks, commodities, and metals. The line chart for a selected instrument shows data for various periods, which can be configured for each customer. Market Overview also allows users to search instruments by ticker and description. Instruments are only limited by the number of symbols the user has requested.
Option Chain provides a list of available options contracts for a select underlying security. All options contracts are listed by expiration date and type (Standard, Special dated, etc.). Users can select different filters to display 2, 4, 6, 8, 12 or all available strikes. They can set up columns to display essential fields and options analytics, such as greeks, volatilities, and theoretical price for put and call options.
The Option Surface widget allows users to visualize data by displaying a 3D surface based on the Option Series data. This widget allows users to change Time to Maturity, select different Underlying dimensions, and individual Greeks and move up to the Implied Volatility rank of the VIX-like index of the option chain.
Our clients
In our portfolio there are projects for different financial markets and geographical areas, different regulations, different asset classes.
Some of our implementations are owned by reputable FX brokers in both institutional and retail segments.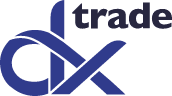 FAQ
Can I connect my data feed to DXcharts?
Yes! It is build to be data-agnostic, though you can go with the default built-in option: dxFeed.
Where can I see your roadmap?
Reach out to us by filling the contact form and we will share our roadmap with you.
Can I change the charts' style based on my company brand?
With DXcharts you can change literary everything in the UI.
What's the difference between DXcharts and other solutions on the market?
DXcharts libraries combine popular and advanced technologies, outstanding customization capabilities, extensive documentation. We also offer options with the source code and market data.
What's the price of DXcharts?
Please fill the contact form and we will get back to you with all of our distribution options and relevant price tags.