On April 26-27, 2016 Devexperts participated in 4th annual Swiss IT Business (SITB) exhibition in Geneva, the largest professional gathering dedicated to business software and IT solutions in French-Speaking Switzerland.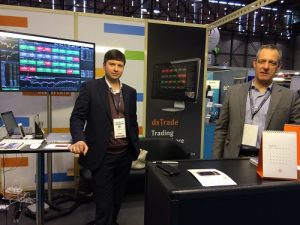 During the exhibition, Stanislav Stolyar, VP OTC products, gave a presentation on new business models and IT solutions in the financial industry which emphasized the role of "white label" online trading platforms as a client retention tool for retail and private banks.
Participation in SITB exhibition inaugurates entree of Devexperts into the Swiss market with a holistic offering of the product (multi-asset trading platform), market data, software development and consulting services.
Interested parties are invited to contact Devexperts' sales team in Switzerland:
Phone: + 49 89 262 077 349