We're honoured to have been shortlisted for four categories in the first TradingTech Awards – Europe 2019.
Best Consolidated Market Data Feed – dxFeed
Best Market Data Provider – dxFeed
Best Trading Analytics Platform – dxFeed Market Scanner
Best Cloud-Based Data Solution – Devexperts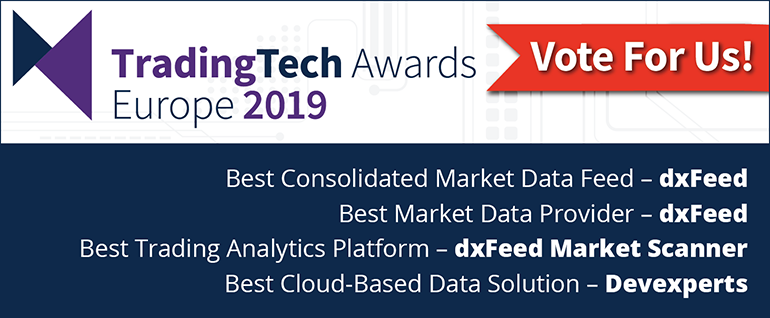 Vote for Devexperts and dxFeed on this year's shortlist!
These European awards reflect the different challenges facing market practitioners and suppliers as they seek to develop trading and data solutions in the rapidly changing European marketplace.

The TradingTech Awards Europe 2019 shortlist is the result of evaluation of award submissions by the editorial team and advisory board of A-Team. The evaluation considers depth of involvement in capital markets, relevance of a solution or service to a selected award category, and the potential interest of a solution or service to our TradingTech community.
Voting will close 5pm Monday 7th January 2019.