Hi folks! We're thrilled to announce the latest update for Devexa, your trusted virtual assistant and chatbot.
This time, we have given Devexa a new friend in ChatGPT to expand her capabilities and provide you with an even more comprehensive personalized experience. Please welcome the new and improved Devexa powered with additional functionality!
Seamless integration with ChatGPT
Devexa now leverages the power of ChatGPT, the industry-leading natural-language AI system from OpenAI, to improve its responses. If Devexa encounters an inquiry that falls outside its scope of knowledge, it seamlessly switches to ChatGPT, providing you with more accurate and informed answers. This feature can be particularly useful for traders, allowing them to ask any questions directly in the support window.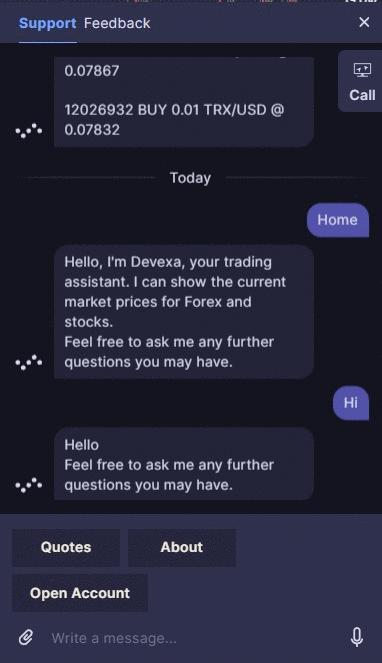 As you may already know, Devexa can be connected to various messaging apps such as WhatsApp, Viber, Slack, Facebook Messenger, or Telegram through their respective chatbots. With the integration of ChatGPT, she (Devexa) can now provide additional assistance across all these apps, expanding the range of topics she can help with. That makes Devexa your primary virtual assistant for diverse inquiries and tasks.
The operator can use the Admin Panel to enable or disable access for specific user groups to chatbots with ChatGPT.
Improved Admin Panel interface
We have revamped the design of the Admin Panel to separate all the functionality and settings into different tabs to make the setup workflow more efficient. The new interface boasts a clean and modern look, with intuitive navigation and streamlined controls, ensuring administrators can easily manage conversations. Experience the power of our improved admin panel and manage your clients' accounts like never before!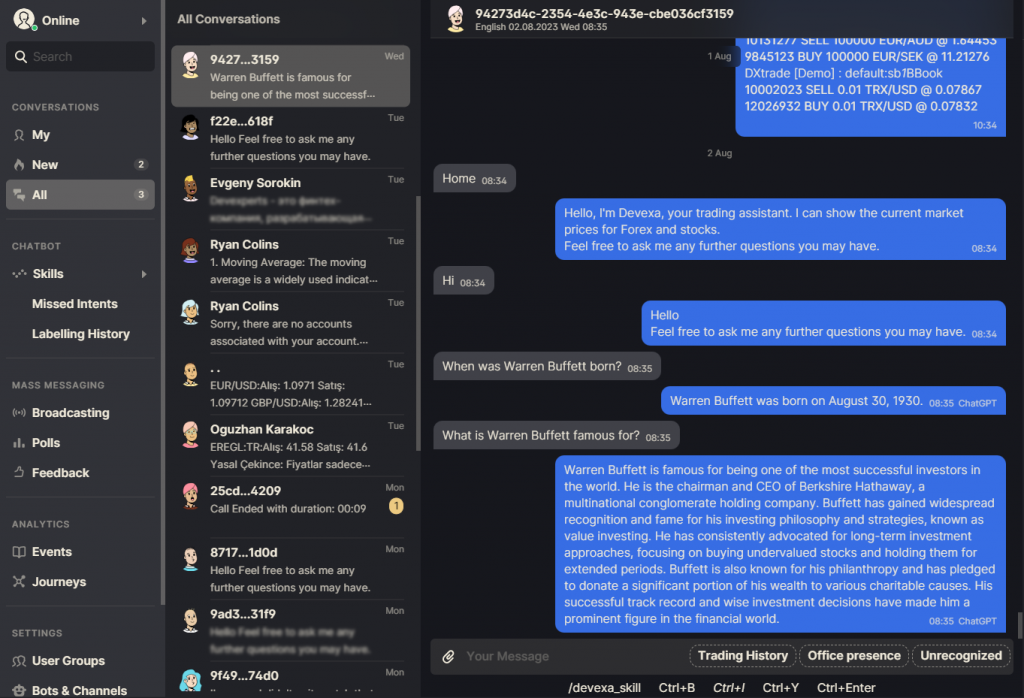 We are confident that these updates to Devexa will greatly enhance your overall experience, providing you with a virtual assistant that continuously grows and learns alongside you.
Stay tuned for more exciting news and additions in the future!
The Devexa team