Download the e-book:
The Ins and Outs of Forex Liquidity Aggregation
Fill in the form below to download
The e-book is for:
Those who want to understand the mechanics of FX execution, the technology behind it, and to reach Level 80 in forex liquidity management. It is intended primarily for expanding FX/CFD and Crypto brokers, for those considering working with multiple liquidity providers, and for brokerage house employees wanting to increase their market knowledge. This e-book aims to boost brokers' confidence in pricing and hedging strategies.
We recommend brokerage house managers keep this e-book handy and also forward this link to their colleagues in other departments, especially to those involved in dealing and risk management.
What You Will Learn from This Book
1
A behind the scenes look at broker operations related to liquidity management and liquidity flows in the Forex market
2
Practice by following and untangling a lifecycle of quotes, orders, and trades
3
An understanding of the pros and cons of working with several liquidity providers
4
And you'll walk away knowing the difference between PB and POP setups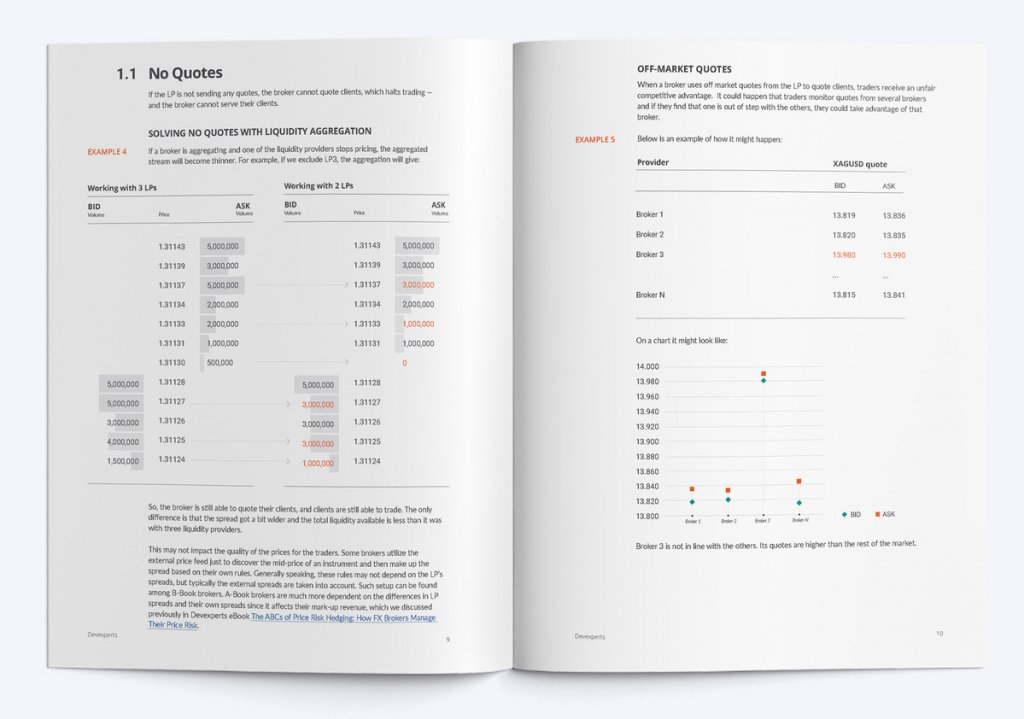 Reviews
"This is a great e-book that covers not only the basics of liquidity aggregation but some real fundamental issues that start up brokers need to comprehend when they are setting up their companies base trading infrastructure. Mistakes around such a critical aspects in a trading company as liquidity, the management of it, and the collaterization needed are very dangerous in the short, medium, and long term. This book will help all those that read it come up the curve to a stronger position of knowledge very quickly. I would dare say that not a single executive or senior manager at any brokerage firm shouldn't understand these concepts. This is a great work, very much needed, Bravo!"
Muhammad Rasoul
OTC Retail Trading Pioneer
"Evgeny has done a great job compiling all of this information into one place, something I have not seen done before.
It's clear and concise, covering the important aspects people in the FX industry should know and understand. There is useful content for everyone from new entrants all the way up to industry veterans.
Without this e-book it would take a long time to gain all this knowledge. I believe that everyone who reads this book will find it enjoyable and take away new information and meaningful insights into how the Forex market operates."

Jon Light
VP of Trading Solutions at Devexperts
"Thorough tutorials on B2B Forex technology such as liquidity aggregators are a rare thing to find. It's not impossible though, and "The Ins and Outs of Forex Liquidity Aggregation" is a great example. This textbook by Devexperts is something I have always valued: in-depth, actionable and frank insight into forex pricing, execution, and hedging strategies.
With an unbiased narrative and multitude of clear and concise examples, Evgeny provides an excellent explanation of advanced problems in the fragmented OTC space.
Highly recommended for anyone who is willing to better understand trading with liquidity providers."
Michael Greenberg
Founder and CEO at Finance Magnates
About the author
Evgeny Sorokin is Chief Product Officer at Devexperts. Having implemented trading platforms with tens of brokers from around the globe, he gained knowledge of how different departments of brokerages operate from the technology perspective.
Evgeny Sorokin