Devexperts, developer of the financial markets most successful professional retail and institutional trading platforms, and provider of one of the US's largest cloud-based financial data infrastructures, signed an agreement with the Japanese software provider, Intelligent Wave Inc., to introduce a new white-label ready brokerage stock trading platform to Japanese securities companies.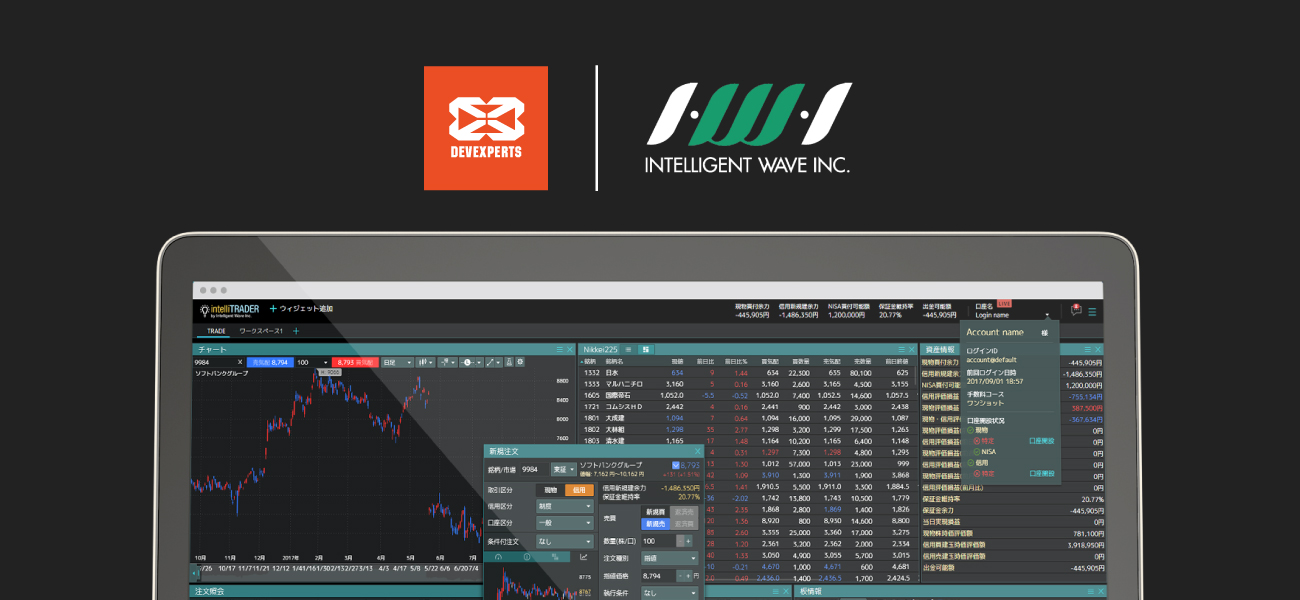 The new stock trading platform will introduce a brand new web front-end specifically tailored for Japanese financial market participants. It will support a wide-range of Japanese specific functionality including Shinyo (similar to margin stock trading), online contracts signature, and both cash and margin trading on a single account. HTML5 drag-and-drop interface contains set of widgets, including powerful charting with technical analysis, reporting and depth ladder, trade book, etc.
The stock trading platform back-end comes with an order/execution and risk management systems and fueled by a direct market data connectivity to Tokyo Stock Exchange. Under white-label conditions, Devexperts will integrate the trading platform with the customer's back office system and tailor it according to individual preferences.
The stock trading platform prototype will be available in Q4 of 2017. Intelligent Wave Inc. will showcase it on demand and have an exclusive right to distribute this platform in Japan.
Tsukasa Iseki, CEO of Intelligent Wave Inc. stated: "We will enter the market in the field of front systems for Japanese securities companies by the joint business with Devexperts, which has supreme technology and great achievements in global capital markets."
Michael Berman, Global Head of Sales at Devexperts said: "Japanese market has always represented a challenge for foreign companies, and we are happy to partner with such a strong company, as Intelligent Wave Inc., to deliver Devexperts stock trading platform to a local financial community. Japan is a major priority in our global expansion."
About Intelligent Wave Inc.
Since established in 1984, Intelligent Wave Inc. (IWI) has built up trust by providing reliable network technologies for processing large volumes of transaction data in real time and accurately, particularly in the financial industry.
Especially in the field of credit and cash card, IWI has provided NET+1 (In-house developed product), which is mainly used for a switching transaction data through domestic and overseas card networks and a user authentication as the core of online system works 24 hour / 365 day (No1 share in the domestic market).
In the securities industry, IWI has developed and provided Information delivery infrastructure to enterprises. Will-Trade (In-house developed product) is working for an accurate processing with ultra-low-latency and vast amounts of market data for online and wholesale brokers in Japan.
Intelligent Wave Inc.
Kayabacho Tower, 1-21-2, Shinkawa, Chuo-ku, Tokyo 104-0033, Japan
http://www.iwi.co.jp/en/