About the Client
The client is a US-based digital custodian with more than 1,700 financial advisors, providing RIA services, including brokerage and wealth management solutions.
Business Challenge
The client required a technical partner who could develop a fractional order management system (OMS) capable of supporting block orders across multiple asset classes. The system needed to integrate with multiple counterparties, including market makers, clearing agents, and the client's internal back-office system. Additionally, once the orders were executed, the proceedings (cash and securities) had to be allocated back to individual accounts. For example, a basket order to buy 10,000 shares of IBM would have to be allocated to 15,000 accounts, with 0.3 shares going to account A, 1.3 shares going to account B, and so on.
The system needed to send orders to the market makers at the start of the regular trading session to ensure maximum liquidity. Failure to do so could cause multi-million orders to move the market and worsen the execution price.
The client's existing OMS did not meet expectations in terms of performance, and the allocation process couldn't support the firm's ambitious growth plans.
To meet these targets, the client needed to upgrade to an OMS which could execute tens of millions of orders in minutes.
The client also required the trading system to support a wide range of instruments, including stocks, ETFs, options, bonds, and mutual funds.
Such a complex task required a team with strong technical skills and extensive experience in brokerage services which could provide a turnkey solution and significantly customize it on an ambitious timeline.
Solution
The first phase of the Devexperts solution was implementing the ready-made DXtrade XT platform, which enables stock, ETF, and options trading. Devexperts then added custom features, including:
Fractional trading, which allows the client to place fractional orders. The client has a large number of accounts containing complex portfolios of fractional stocks
Notional trading, allowing the client to buy and sell assets from individual accounts in money equivalent
Block orders, including allocation instructions for the post-trade processing of funds and securities to individual accounts
Reconciliation between the DXtrade XT platform and the client's back office so that accounts can be automatically rebalanced post-trade.
The second phase involved:
Integrating the trading platform with the client's clearing agents, so all trades and allocations are reported via both REST API and FIX Drop Copy
Enabling the client to integrate new brokers onto its platform
Integrating existing executing brokers and market makers
Adding the ability to trade mutual and money market funds
Aggregated account calculation to facilitate cross-collateralization.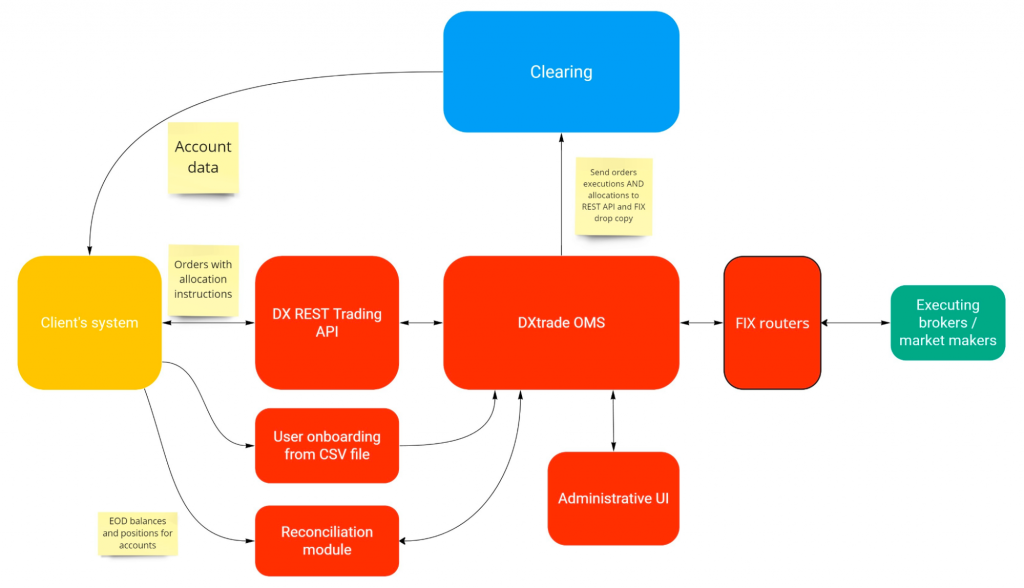 "The biggest challenge in this project was to create a system that could process tens of millions of allocations in minutes. Reliability was key: even if there is a system failure, it can restart without the loss of data or progress. Although DXtrade XT is very flexible and scalable, it was not an easy task involving numerous optimizations and extensive performance testing."

– Vladimir, a lead software architect
Results
The Devexperts team delivered a multi-asset, high-performance trading system which integrated with all counterparties and was tailored to the client's wealth management business.
The solution was delivered on time, and the client was provided with a system capable of executing and allocating thousands of orders for tens of thousands of accounts in under 30 minutes.
"The customized DXtrade software is complex and sophisticated, and I admire the professionalism of the team and their willingness to meet all our requirements. It was a pleasure working with such a talented team."

– Head of Brokerage Product, the client