About the Client
The client is one of the first and largest crypto exchanges in Indonesia, facilitating the buying and selling of crypto assets.
Founded in 2014, the client's mission is to make crypto markets accessible to everyone. Their platform currently enables 5+ million traders to engage in the trading of various crypto assets such as Bitcoin, Ethereum, Ripple, and more.
Business Challenge
The client was looking to enhance their exchange platform's throughput by a substantial margin. The roadmap required enhanced scalability and performance to accommodate the desired trading volume expansion.
Specifically, the system needed to efficiently process a peak load of 10,000+ orders per second. However, the client's existing software was incapable of handling such a high load.
In their search for a suitable solution, the client came across Devexperts, who offered DXmatch as a pre-existing technology designed to address the aforementioned challenge.
Solution
DXmatch is an advanced software solution with a comprehensive array of features such as a matching engine, reliable market data delivery, storage capabilities, risk controls, and WebSocket and REST APIs.
Notably, DXmatch demonstrates a prominent emphasis on low latency and high throughput.
Thanks to its system design, DXmatch scales horizontally, linearly adding more computational power with each new matching segment added to the array.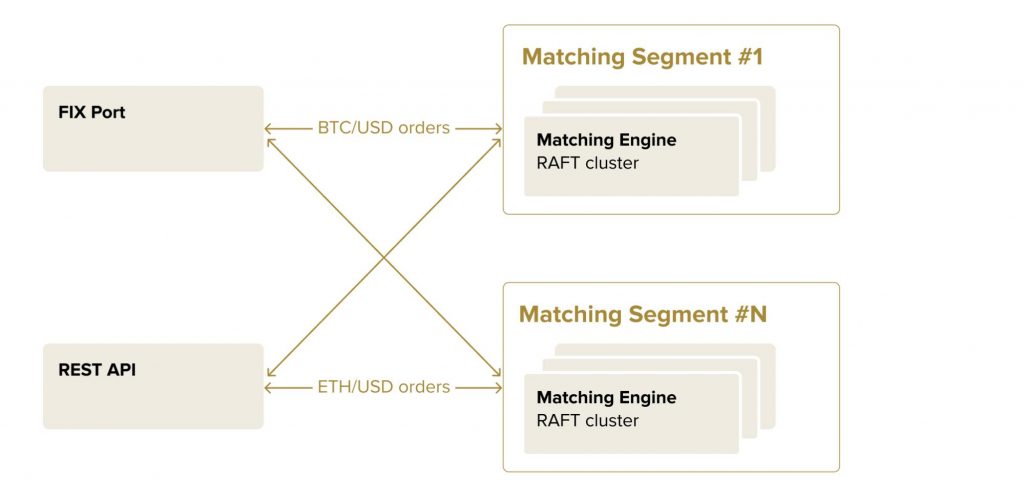 To help the client, the Devexperts team:
Deployed the DXmatch software within the client's infrastructure.
Provided training on effective system operation to the client's personnel.
Offered necessary consulting during the integration process.
It is noteworthy to mention that the DXmatch software required no customization. It immediately fulfilled its intended purpose and seamlessly integrated with the client's ecosystem.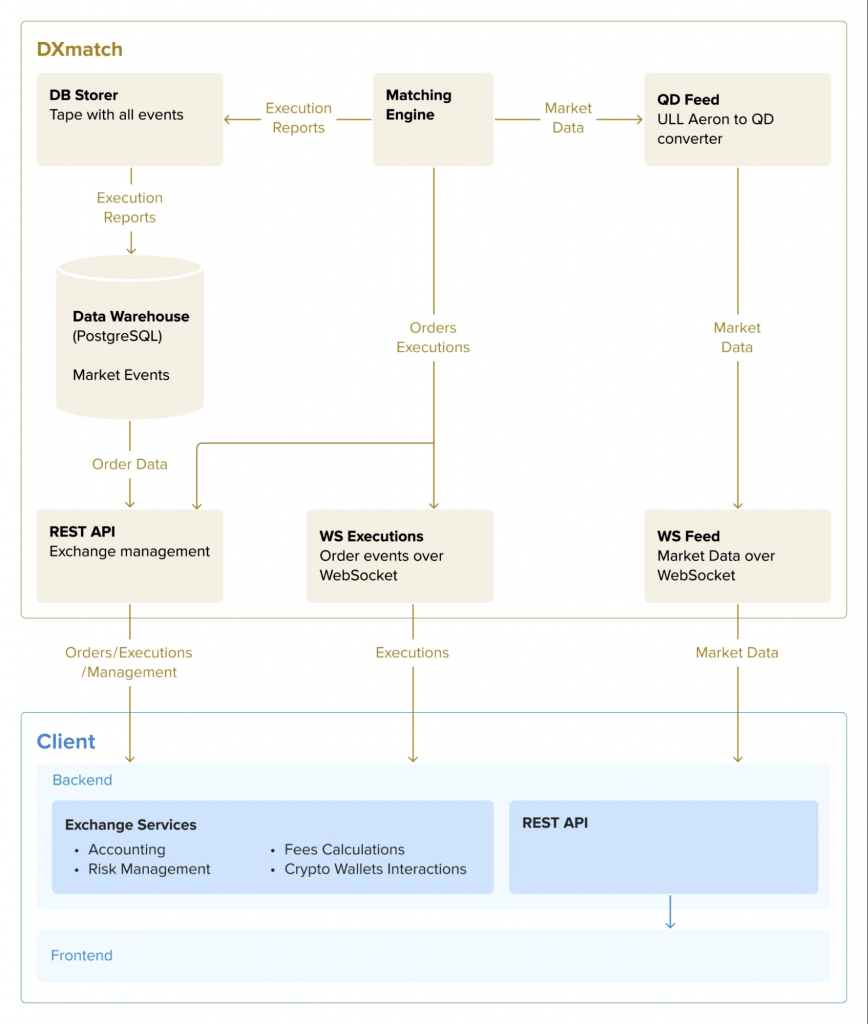 "It's fantastic to see how the client is using the vanilla product, without any customization, along with the documentation on how to operate the system, to achieve their goal of ultra low latency and high burstable throughput on GCP.

It brings me great joy to witness how seamlessly our DXmatch 'just works' for users on the other side of the world, without needing our control, maintenance, and support".

— Sergey Samushin, Head of Delivery Unit
He also added that:
"On the first trading day the system has already processed over 10M orders, and 1.1M orders are working in order books!"
Results
Working closely with the client, the Devexperts team managed to deliver a scalable and flexible solution within a few months. All project goals, including desired performance, reliability, and security characteristics, were met successfully.
The move solidified the client's position as a leading crypto exchange in the Asian region and provided a strong technological foundation from which to continue the expansion of its customer base.
"Our client possesses a genuine passion for this asset class, and they have an indescribable zeal to help spread it across the region in a professional, trusted, and regulated manner. They've been around since the very early days of crypto, and they also witnessed the evolution of exchange tech. So we're happy they recognized the maturity of our systems. And now, we're eager to help them grow".

— Michael Babushkin, CEO of Devexperts
"This upgrade solidifies our promise to continue to invest in the very best technologies to provide our traders with a truly first class service. We aim to spread crypto literacy across the nation, and to be the venue of choice in the Asia-Pacific region. We're happy to have Devexperts joining us on this journey".

— Co-founder and CEO, the client