About the Client
The Client is a US financial group established in the early 80s. The Client supports multiple business models with one of the largest networks of independently managed broker-dealers. Its specialties are CPAs, bank and credit unions, regional models, financial advisors, and wealth management. The Client employs over 8,000 financial advisors who manage over 80 billion US dollars.
Challenge
The Client had four legacy advisor portals used across its four business entities. In the course of restructuring the business model, the portals required large scale reconstruction. Multiple portals meant costly maintenance for the Client and major inconveniences for advisors due to the absence of a unified ecosystem. The Client's primary request was to revamp the UI and information architecture and deliver a unified portal, which should also facilitate future functional evolution.
The new portal should retain the full functionality of the legacy portals and provide advisors with a new set of features. The Client also required that the portal be capable of displaying its current broker-dealer center's content. The broker-dealer center aggregates all account metrics across the Client's four business entities.
Solution
Having previously delivered a family of advisor portals to a major US wealth management firm, Devexperts established a reputation as a trusted technology provider and partner in the financial services industry and was chosen to deliver the project.
Devexperts focused on combining the functionality of the legacy advisor portals into a single web portal. All the existing tools for creating and analyzing customers' portfolios, reporting, reviewing customers' accounts and data, calendar, search tools, and watchlists were unified under the new UI. The portal was also integrated with the broker-dealer center to display its aggregations of all account metrics across the Client's entire network of independently managed broker-dealers.
Unifying the portals went hand-in-hand with revamping the look and feel, usability, and information architecture. The goal was to provide financial advisors with a modern interface and improved the user experience. Devexperts also implemented a flexible UI framework for future functional evolution. In addition to the new look and feel, Devexperts developed entirely new UI/UX options. The software vendor aimed to give advisors a personalized experience, so they deployed features such as a customizable dashboard with widgets, a common alerts framework, an improved entities search, and contextual help. The modernization also introduced an element of social networking to the advisor portal, allowing advisors to share their profiles with colleagues.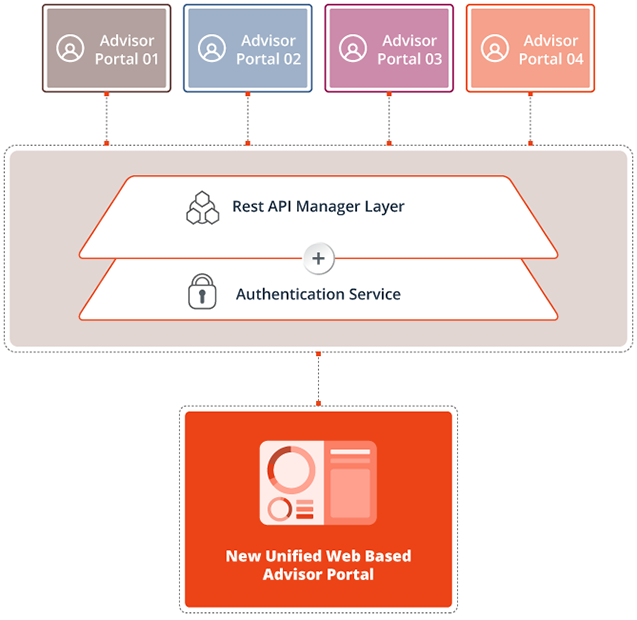 Results
The Client's business model restructuring went as planned, as Devexperts successfully delivered a unified portal across the entire broker-dealer network.
The new portal combines all original functions of the legacy portals and is also integrated with the Client's broker-dealer center. For a top-notch user experience, Devexperts developed a customizable user interface and added new features for advisors such as a customizable dashboard with widgets, a common alerts framework, an improved entities search, and contextual help.