With Gate45 brokers can seamlessly connect their ecosystem with their multiple MetaTrader servers, allowing for the aggregation of real-time data trading data to be collected via a single API request.
Devexperts offers Gate45 as a middleware that enables an easy integration of the broker's ecosystem with MetaTrader 4 and MetaTrader 5.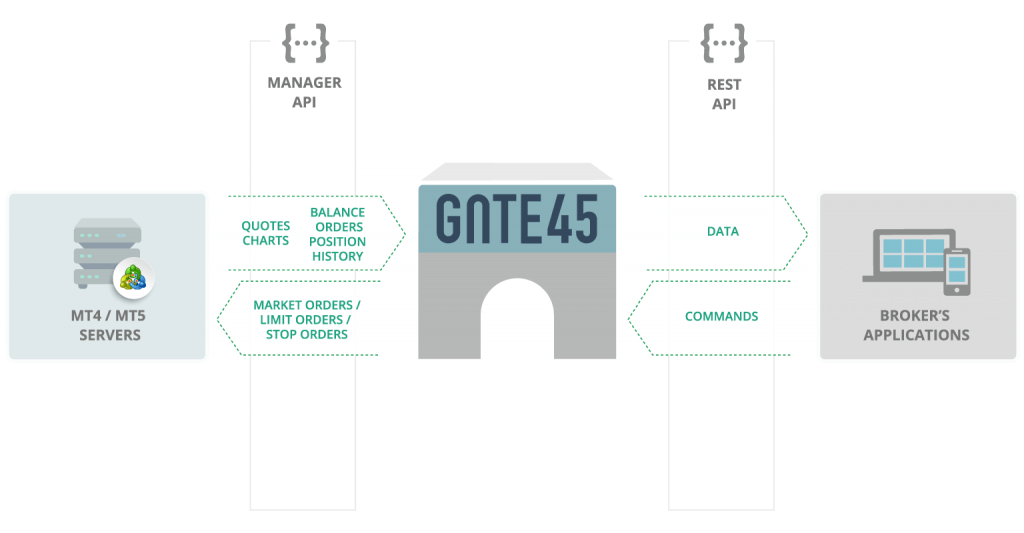 In addition to being a single point of connection for all of a broker's MT4/MT5 servers, Gate45 operates as a stand-alone component that can be used to interconnect custom trading and broker-developed add-ons with the MT4/5 platform.
Among its many benefits are an easy integration, no requirements for additional plugins, resulting in zero footprint on the broker's infrastructure, and a single API for multiple server connections. Gate45 extracts quotes, charting information, balance, account data, position metrics, and trading history, and in turn sends commands to the MetaTrader platform. This feature allows for interconnecting Gate45 with a wide array of broker components such as CRMs, back-office software, client portals, management information systems, risk management tools, compliance software, IB commissions engines, and much more.
Solution examples
Access to account history and balance
Aggregate reporting
Schedule trade reviews
Protect from arbitrageurs
Integrate with customer applications
For more information on Gate45 please contact us.