About the Client
The client is a European cryptocurrency broker and hedge fund offering margin and spot trading. Through partnerships with real-economy enterprises, they also issue and list coins to provide traders with opportunities to invest in welfare projects.
Business Challenge
The client required a spot and margin cryptocurrency trading platform to launch their brokerage business. Willing to provide traders with the best user experience, the broker looked for a seasoned solution. As the crypto hype was rising, time for completion was also critical. This is why they looked for an out-of-the-box solution that would take less than a month to set up.
As the client wanted to offer their traders both speculative trading and the actual purchase of cryptocurrency assets, the platform needed to provide margin and spot trading, plus integration with cryptocurrency wallets and payment providers.
Solution
Devexperts has a turnkey trading platform for cryptocurrency brokers—DXtrade. The client found out about it while searching online and approached us with their business challenge. After a demo and a series of consultations, the broker decided that DXtrade was the best fit for them, so Devexperts proceeded to set up the platform.
The main challenge was to make switching between spot and margin trading seamless. In DXtrade, we achieved this: traders can use their spot and margin accounts within one platform, seamlessly switching between account types under one login.
Then, we configured withdrawal procedures and spot account metrics, such as an indicative balance and the ability to lock funds in use for working orders. The platform was also equipped with the Funds widget that breaks down the balances of a cash account.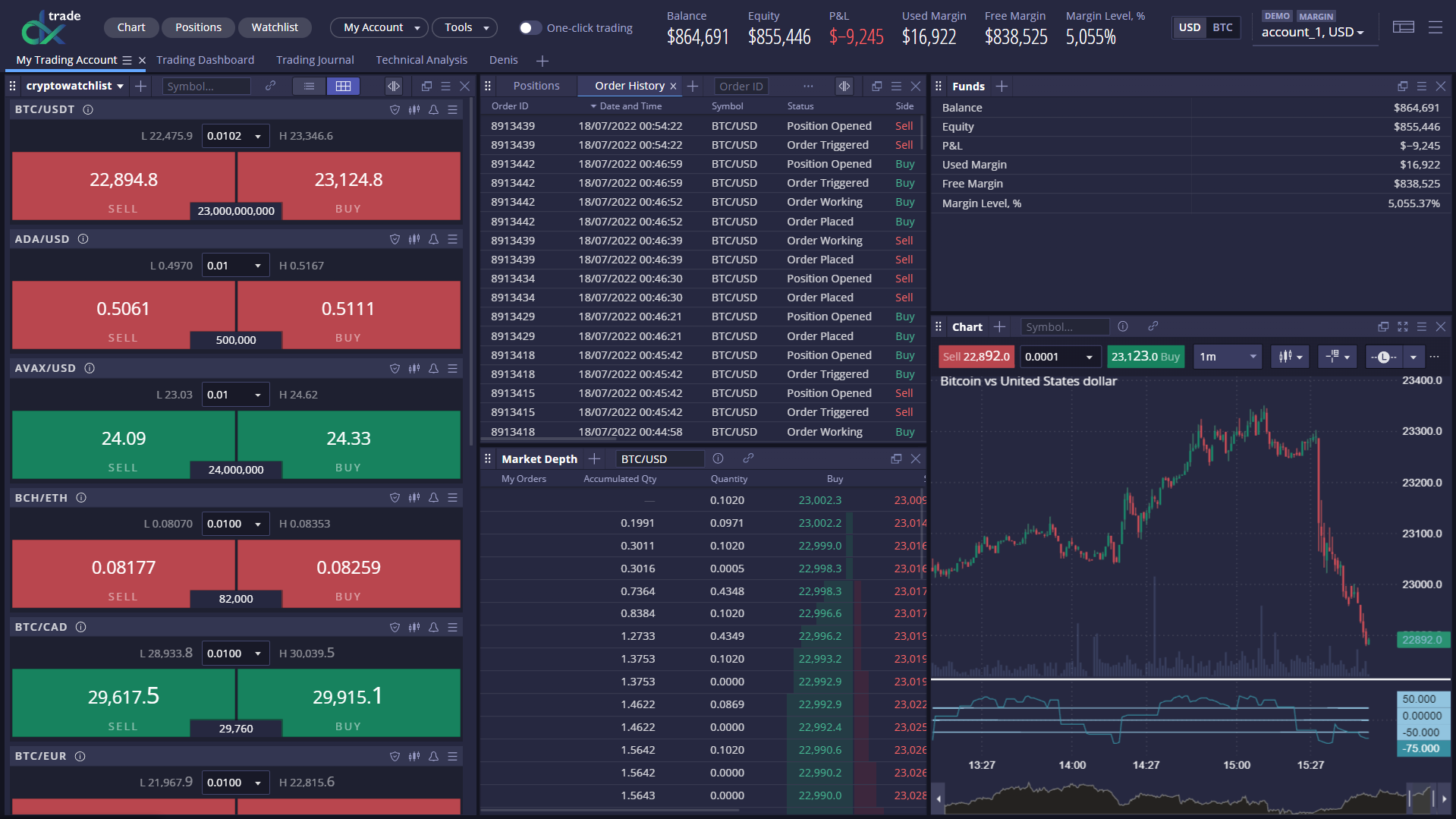 In terms of design, we customized the trading platform with the client's brand identity.
The last setup stage included the platform's integration with the client's trading servers and subsequent load testing. DXtrade already includes integration with crypto liquidity hubs, payment providers, and cryptocurrency wallets, so the setup process took only two weeks. Thus, we met the tight deadlines, and the brokerage was ready to be launched on schedule.
Results
The client received everything to launch the cryptocurrency brokerage with spot and margin trading. DXtrade's configuration allows traders to switch between their spot and margin accounts seamlessly.
Due to DXtrade's straightforward and advantageous pricing model, the client minimized commissions.
The broker also offered traders opportunities to invest in welfare projects through spot cryptocurrency trading and coins issued together with real economy businesses.